Well, well. Welcome to self-employment.
Everyone who was excited over last month's blog income report, take a gander at this one.
This is the reality of working for yourself — at least for me this year.
As always, I am a month behind on my income reports.
This is so I can get all of the paperwork and balance the books before pulling all the figures.
This report helps me tremendously, so I want it to be completely accurate.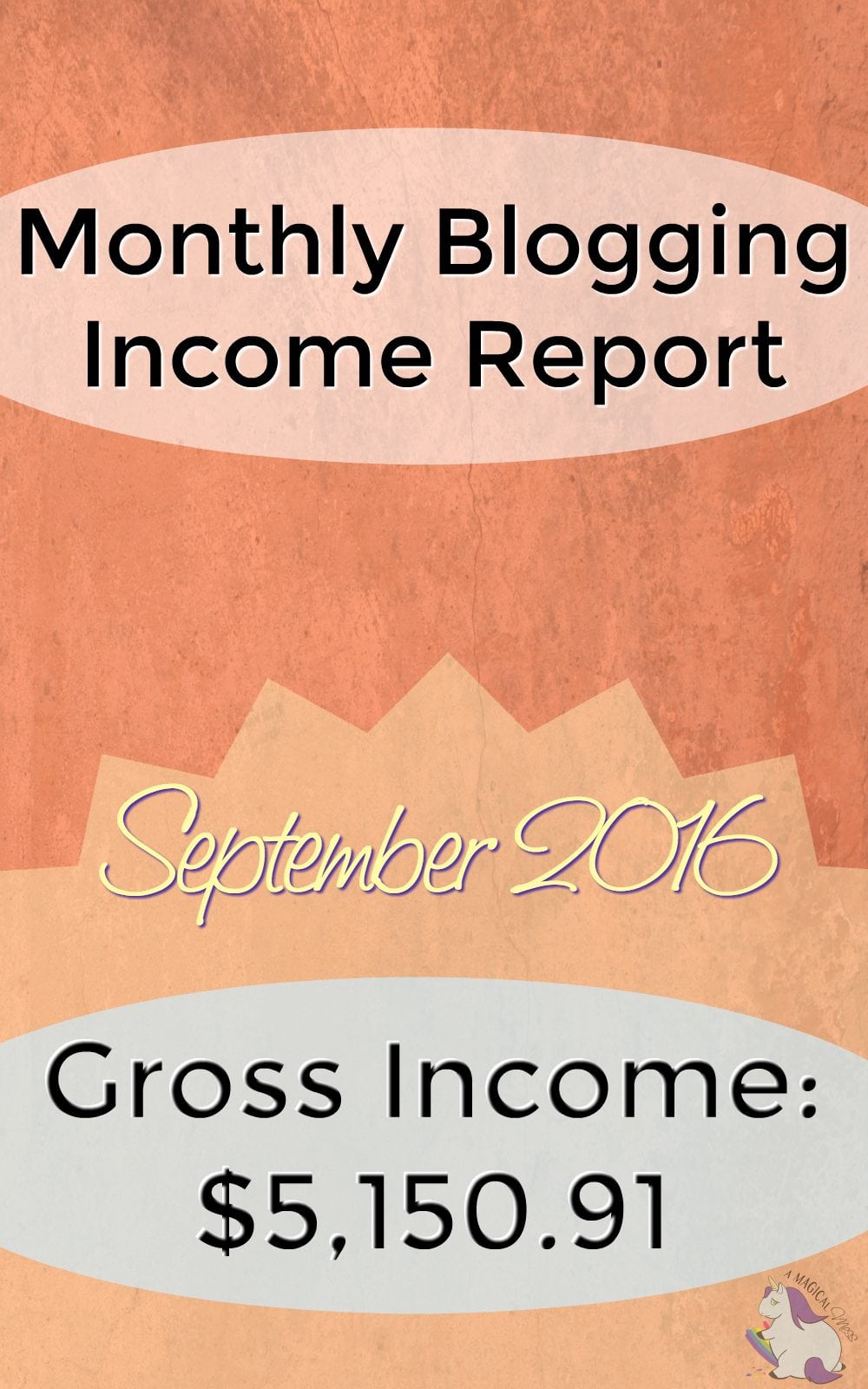 Last month I got a not-so-nice comment about sharing my income.
First off, I did struggle with the decision to post income reports at first.
I even wrote a post about the pros and cons of posting income reports.
Ultimately I decided to do it for a few reasons.
For one, I love to read them on other blogs and find them extremely motivating.
Second, they help ME realize what the heck is going on with my own blog.
Third, now that I share blog tips on occasion, I feel like I should be transparent about how I am doing.
Who the heck wants to read tips from a person who isn't experiencing at least a little bit of success?
Finally, why do other bloggers care what I post?
Personally, I don't care if you write an article on how to pick your nose properly – it's your blog.
And why the hell aren't we supporting each other?
I celebrate other bloggers' successes not tear them down.
(Sorry, can you tell I don't do well with nasty comments?)
Monthly Blogging Income Report from September 2016
These numbers are for cash received during the month.
In my bookkeeping reports, I choose "cash basis" instead of "accrual" to get these numbers.
So, it doesn't include work done during the month unless they pay right away.
Many networks pay 60-90 days so money can come in from work done months ago.
September Blogging Income
Sponsored Posts:

Linqia: $10.00 (Referral income)
Wolf Best Buy: $250.00 – Paid in gift cards.
IZEA: $250.00
Other Sponsored Posts: $1,630.00

Social Posts:

IZEA: $0
Other Social Posts: $100.00

Twitter Parties: $400.00
Affiliate Income:

Shareasale: $331.51
Amazon Associates: $105.15 (Part of this is from Amazon CPM ads)

Ad Networks:

The Blogger Network: $92.71 This is probably the last month for them since I switched to Mediavine for ads.
Marfeel: $21.54 – Mobile ads.

Sidebar Widget: $300.00 – Paid in gift cards.
JustSweep.com: $85.00 – My giveaway directory site.
Shelley's Income: $1,575.00 – What Shelley made through the blog on her own.
Income Total: $5,150.91
September Blogging Expenses
Photoshop/Lightroom: $10.61
Virtual Assistant: $80.00
the hungry jpeg: $13.50 – fonts and graphics.
convertkit: $29.00 – newsletter.
CoPromote: $49.00 – Promote social shares. There's a free version, as well.
ManageFlitter: $12.00 – Manage Twitter followers.
Jaaxy: $49.00 – Tool I use for SEO keyword research.
United States Treasury: $440.00 – Estimated taxes to soften the blow come tax time.
WiredTree: 625.95 – blog hosting fee for my dedicated server. I pay quarterly.
Shelley: $165.74 – What I paid my sister directly.
Total Expenses: $1,474.80
Net Income: $3,676.11
I added Shelley's income like last month.
The income total includes what the blog made as a whole.
Subtract Shelley's direct income and it's $2,101.11.
Last month I said the remainder was what I made personally, but that's not entirely true.
That money stays in the business bank account.
What I can realistically withdraw for myself to pay the household bills is not the same number.
Take that a step further and realize that $550 of that total is gift cards, which are fabulous, but do not pay the bills.
What I Learned from this Report
This report scares me.
Since I made the decision to be self-employed, I have been in a constant state of worry when it comes to finances.
This report tells me that's valid.
However, it also makes sense since we rebranded and made some major changes.
Also, a lot of payments in September would be from June work, which is a slow month.
This dip in income is just another reminder to save money when you have a really good month.
On another note, Shelley and I are focused on doing a lot more than just sponsored work.
We have started to open up and get a lot more personal on the blog.
It's a great feeling and makes us finally feel like a "real" blog. LOL
That in itself has value.
If you post a blogging income report, please let me know.
I'd love to read it, or maybe even link up!