Here is a 2 tier affiliate program directory for those of you that take advantage of Shareasale's affiliate bonuses.
One of my favorite things about Shareasale is the opportunity to earn affiliate bonuses.
Not only do many of the individual affiliate programs offer bonuses for performing different tasks, but they also have this 2 tier feature.
This post contains my referral links.
What is this 2 Tier Affiliate you Speak of?
Okay, so we know what affiliate links are, right?
They are a way for a blogger to monetize by including links in their post to certain products or services.
If a person makes a purchase through these links, the blogger can earn a commission.
A 2 tier affiliate link is when the blogger belongs to an affiliate program and then refers another blogger to join.
In other words, once you belong to the affiliate program, you can then refer other bloggers in your niche using a 2 tier link.
Using a 2 tier link in Shareasale can benefit the blogger in a few different ways.
Some programs will increase your commission once you refer another person.
Some will share your referrals' income with you.
Some give cash bounties right away.
That is what I am making a list of today — the ones that give bonus bounties upon approval.
It's a great way to find new affiliate programs to work with, and beef up your Shareasale balance a bit.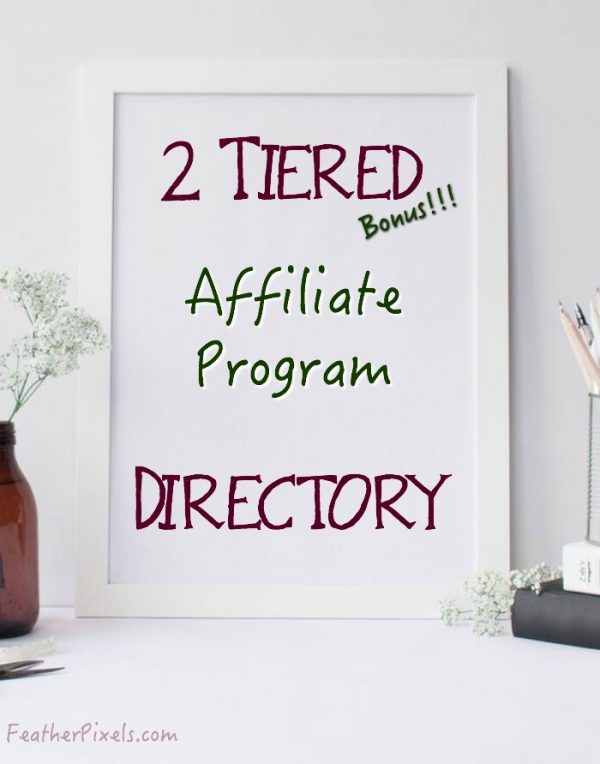 Shareasale 2 Tier Affiliate Program Directory
Below you will find the 2 tier affiliate programs offering bonuses for referrals.
The bonus amounts are subject to change.
I will try to keep this post as updated as possible.
After you join, refer other bloggers and other website owners to earn the bonus.
Affiliate Programs by Niche
Health & Fitness Niche
Food & Drink Niche
Dog & Pet Niche
Blogging & Business Niche
Beauty & Fashion Niche
Household & Gift Niche
As you can see, there are many opportunities for referral bonuses.
Most of them show up in your Shareasale account right away, and offer incentives throughout the year, as well.
I have a lot more to say about Shareasale affiliate programs, but I will save that for additional posts.
Hopefully, this Shareasale 2 tier affiliate program directory helps you as a resource.
Like I said, I will try to keep it as updated as possible.
Feel free to let me know if you know of any programs that I missed.
Once again, if you don't already belong to Shareasale, you can join here.
Two tier bounties are one of the several things that I like about their affiliate platform.