I used to google legitimate ways to make money from home at least three times a week when I was working an office job. It was no offense to my job; some people aren't cut out for cubicle containment. Back then my google search would return nothing but illegitimate work from home scams and pyramid schemes. Nowadays you'll find some good sources, but I still want to share my experience with different work from home adventures. I don't have a course to sell you, and I plan to give you the real deal behind each gig.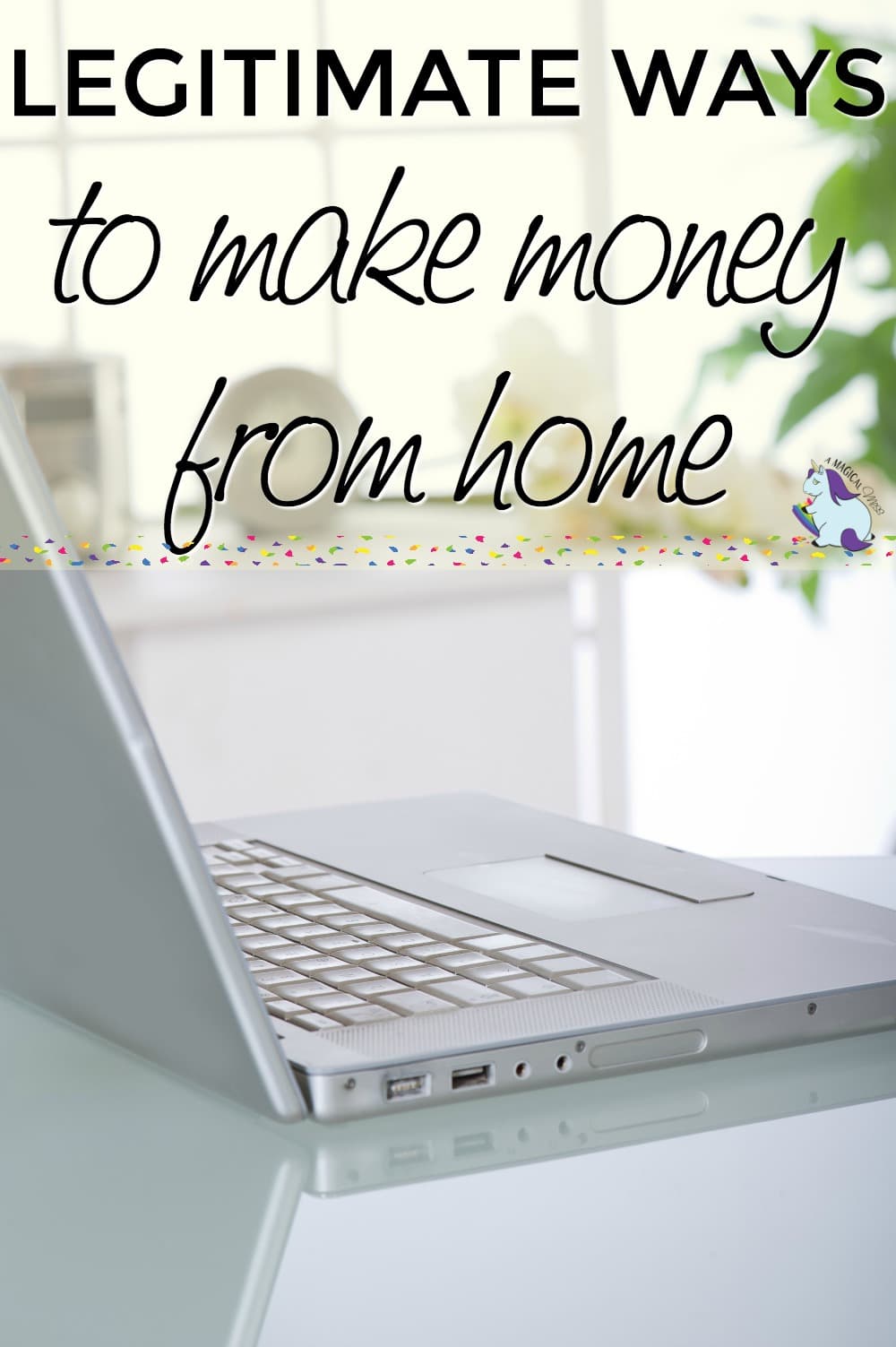 Although I will share legitimate ways to make money from home, each way isn't for everyone. Starting a work at home business doing something you hate is dangerous. The key to success as an entrepreneur is to do what you love or at least enjoy. You can't dread getting out of bed in the morning. Most likely your business will require more hours than your 9-5, so slacking off is setting yourself up to fail. I'm not going to discuss the discipline it takes to make a home business succeed. I'll just say to be brutally honest with yourself about how you spend your time. Nothing I mention will be a "get rich quick" scheme.
I start a lot of business ventures. I do this for many reasons, but mainly because I thrive on knowing how things work. I want to know how to do everything. Then, once I learn, I think I want to dive in. It's good to try a lot of things, but know when to move on, as well. On this page, I will list what I've tried, a little info on how it went, and also add relevant blog posts diving deeper into the projects. Bookmark this page as it will be updated as new posts go live.
A few more things to know about me is that my income is required in this house. Although my husband has a great job, our bills demand a two-income household. I quit a job that paid well to work from home. So, just know that when I discuss legitimate ways to make money from home, I'm not talking about extra "fun money." You also will not see me promoting direct sales. Been there, done that, have all the stockpiles of auto-shipments as souvenirs.
Legitimate Ways to Make Money from Home
Reselling: Buy items low to sell high on eBay, Amazon FBA, OfferUp, Craigslist, and other selling sites. Everyone should do this to clean out their house. As far as doing it full-time, know that it's active (not passive) income. Find items at garage sales, estate sales, thrift stores, and resale shops. It can be a ton of fun for extroverts who love to shop. As an introvert, borderline hermit, it's a struggle. Retail arbitrage is possible with Amazon FBA, but the margins are tight. In other words, you can shop online to find deals and have them shipped to your house. Get ready to deal with a lot of boxes and inventory.
Posts about Reselling for a Profit
Online Influencer: Blogging, Instagram, YouTube, and using your influence to promote brands on other social platforms. That's our main gig here on A Magical Mess. To date, working with brands is our largest source of income. It took us years to get to this point with the blog. Others may excel quicker if they choose the right niche, learn first, and create quality content right out of the gate. For us, it's active income which requires a lot of time, dedication, creativity, and hustle. Works for introverts, but depending on the niche, extroverts may have a leg up.
Articles About Working with Brands
Affiliate Marketing: Promote products with special links that make you a commission should someone purchase through said links. Once you have a platform that gets a lot of traffic, affiliate marketing can be passive income. It's competitive and difficult since there's a fight for the cookie. If a user clicks through your link only to activate their Ebates browser button, there's a strong chance you'll lose that commission. Affiliate marketing is an introvert's dream (says me).
Posts About Affiliate Marketing
Shopify Dropshipping: Run a store on the Shopify platform where you hold no physical inventory. You can drop ship through Aliexpress, or sell print on demand items. I'm still going through this journey, so I'll keep you posted.
eBay Dropshipping: Sell on eBay where you hold no physical inventory. List items on eBay from a variety of sources. Once the person buys from you, you order it for them from your source. Just started this, as well.
Merch: Create t-shirts and other print on demand goods. Upload designs to sites like Amazon Merch, TeePublic, and many more. Excellent for graphic designers, but others can purchase designs from Fiverr or other sites. You can sell physical or digital products.
Writing: Freelance writing other than blogging. Become a self-published author, ghost write for people, and other writing gigs.
Posts About Writing Gigs
Day Trading: Terrifying, but it's on my list of things to try.
Trying new ways to make money from home is fun and exciting. However, I always go back to my first love – blogging. It's important to have alternative streams of income if we want to make it as a business, but both my sister and I choose blogging above all so far.
Which legitimate ways to make money from home have you tried?