It's important to learn how to organize your everyday blogging tasks.
I know from experience the overwhelming feeling of having so much to do and no clue where to start.
When you sit down to work, wrangle that beast so you can work smarter, not harder.
How to Organize your Everyday Blogging Tasks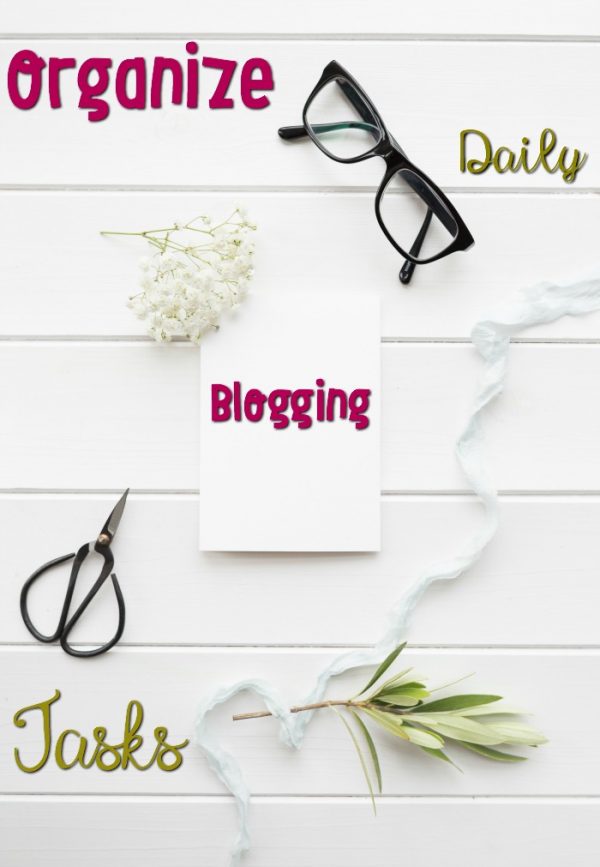 Create a daily blogging checklist
Most bloggers are more productive when they have a list of things written down in front of them.
It minimizes the "what should I work on now?" thoughts that disorganization brings.
Your daily checklist should include any blogging or social media tasks you need to do every day, no matter how small.
I have a daily social media checklist printable in another post that might help.
Use tools to schedule tasks
Scheduling may be the best thing that can help a blogger be more organized with everyday blogging tasks.
To drive traffic, you want to make sure you update social media throughout the day, every day.
Use tools like Buffer, CoSchedule, or Hootsuite to bulk schedule these updates first thing each morning, or the night before.
Sync tasks with to-do apps
Along with your daily checklist, you need to have a daily (or weekly) to-do list for all the extra blogging work you wish to complete.
If you work from a weekly list, pull only three things from the list to work on each day.
If you finish those three with time to spare, you can always grab a couple more.
The key is to cross off items and feel productive.
Organize your to-do list with a mobile app that syncs to your computer.
This allows you to add or remove tasks while on the go.
Asana is a great app that will let you create a list and edit it from any device.
Note everything in your blogging planner
If you use a blogging planner to keep yourself organized, your daily blogging tasks should be written down in it.
There's no need to rehash the checklist if you use one, simply write "checklist" so you account for the time needed to complete those blogging tasks.
Extra duties, such as shopping for a recipe post, should be noted in the planner too.
Designate certain days for weekly tasks
If you have tasks that you do on a weekly basis, create a schedule that lets you space these jobs out.
That way, you have time each day to get them done without feeling rushed.
For example, having your newsletter go out every Friday morning lets you know when you need to have it written.
Pitching companies every Tuesday morning gets the job done so you can focus on other tasks the rest of the week.
Create an editorial calendar for your blog
A large part of every blogger's day is writing the content to publish on the blog.
Creating an editorial calendar helps to organize your ideas, posts, and publishing schedule.
The CoSchedule plugin adds a calendar to your backend so you can schedule posts as you get them written.
It can also ensure you meet deadlines and don't have empty gaps in your posting schedule.
You can assign tasks to contributors or your VA, color code each post, and drag and drop them into other dates.
Do you have any tips to organize everyday blogging tasks?