Having a blogging planner is a must for your sanity. However, if the book becomes an unruly mess, you may still miss deadlines or forget important details. The solution? Have a well-organized blogging planner. Read on to find out how you can organize your blogging planner so it makes your life easier. This post contains affiliate links.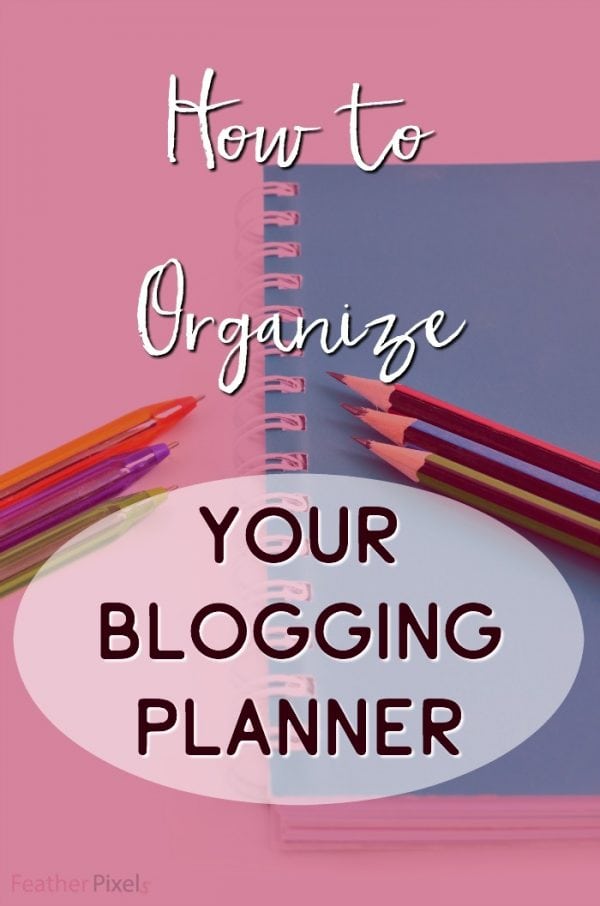 How to Organize your Blogging Planner
Use multiple pen colors.
Color-coding the different entries in your blogging planner will help the various things you have going on to stand out. You could use a different color for each blog post category, or separate posts from giveaways. If you travel for your blog, information about your trips could be another color. Assign a single pen color to each subject or theme, so you can quickly glance for a certain color when you need information fast.
Jot down deadlines as soon as they come.
To keep things organized, you want to keep your blog planner updated with post deadlines. This goes for blog posts as well as social media campaigns. If the due date is several weeks out or subject to change, write in pencil. You can always go back and change it to the proper ink color when you are sure of the date.
Use functional stickers for important stuff.
Yes, stickers can be cute and fill your planner's pages with color and beauty. However, for your blog planner, you want to get functional stickers you can either write on or use to notate something important. For example, a big campaign may have a sticker for the due date; to be sure you do not forget it. If you need to do multiple things for a campaign, use the same sticker across the days you will be doing the tasks, to keep track of them all.
Additional sections help organize other information.
Your daily activities may be the number one goal for your blogging planner, but many like to store other details. For example, a page for commonly used passwords can be helpful – but only use this if you do not carry your planner with you. It could be dangerous if you lose the book and your passwords can fall into someone else's hands! Expenses, income, and post ideas can also be included in your blogging planner.
Keep most personal info out of the planner.
To keep your blogging planner strictly for your blog, avoid jotting down too many personal appointments or deadlines. The exception — when something you are doing in your day-to-day life connects with a blogging campaign. For example, if you were doing a post for a doctor's office or dentist, it's a good idea to jot down the appointment time in your planner, so you don't forget. But to keep your blogging planner from being taken over by other areas of your life, generally, only fill in blog-related duties.
Do you have any tips on how to organize your blogging planner?