If not properly managed, social media for bloggers can become a huge time consumer. Plus, disorganized use won't have the same effect as a deliberate plan for sharing your blog posts and giveaways. This post contains affiliate links.
Read on to find out how to properly organize and use social media for bloggers so you save time and still have great results.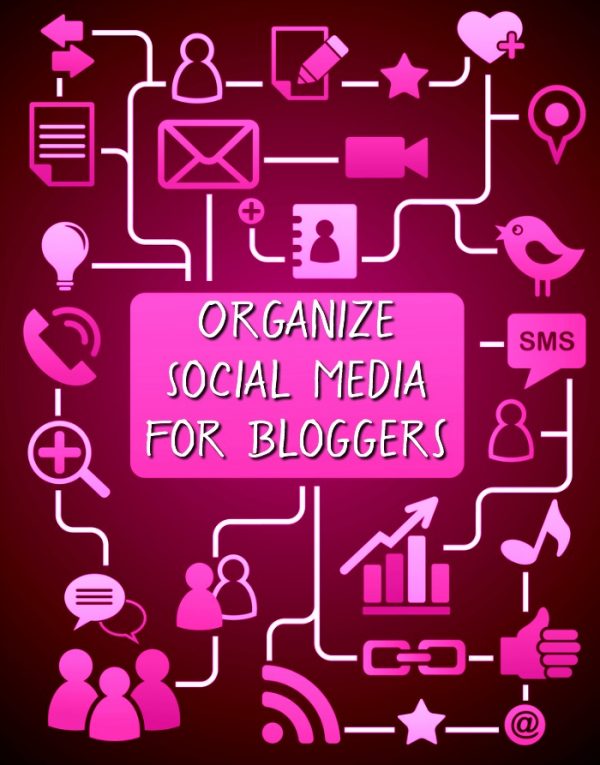 How to Organize Social Media for Bloggers
Focus on 1-2 accounts.
With so many social networks out there today, it can be difficult not to spend your time on all of them. However, focusing on your strongest accounts will likely yield better results. Grab your blog name on all social networks, but really strive to grow the couple that are bringing you the most results.
Schedule updates.
Perhaps the best way to stay organized with your social media is scheduling your tweets, Facebook shares, and pins. Scheduling can be done in bulk and will save you TONS of time during your work week. CoSchedule lets you schedule Twitter, Facebook, LinkedIn, Tumblr, Pinterest, and Google+ updates right from your WordPress dashboard. Board Booster and Tailwind are two great schedulers for Pinterest.
Put your evergreen blog posts in a spreadsheet.
To ensure all of your blog posts get the social media attention they deserve, create a spreadsheet with your evergreen posts. Inside the spreadsheet, create a sub-sheet for each category on your blog. Insert the links within that category, and prewrite tweets or Facebook statuses if you have the time.
Note: if you don't have time to put this together, this would be a great project for a VA!
Create lists for pulling content.
You don't want to only schedule your own content on social media. Promoting other bloggers gives your readers more helpful information, it helps other bloggers promote you, and it gives you more articles to share. On Twitter, create a list of hot blogs within your niche to retweet. On Facebook, you can do the same with a list of pages to share from.
Use social media apps on your phone.
In order to organize your social media even when away from home, you can install apps on your smartphone to manage your accounts. All of the top social networks have their own dedicated mobile app, and schedulers like Buffer and Hootsuite have apps to manage multiple social media accounts.
Create schedules for updating bios.
It is important that you keep your blurbs on social media updated and fresh so that people find you and your blog interesting. Having a well-written bio can get you more followers. A monthly refresh is enough to keep your social accounts looking great. Just create an event on your calendar, so you are reminded to update your networks.
Follow a social media checklist.
What should you do after each blog post to ensure as many social media followers see it as possible? Note down every task, and compile a checklist. Go through this list with each post, to stay on top of your accounts and keep your efforts organized.
Do you have any tips on how to organize social media for bloggers?