As a blogger, it's important to organize blog post ideas.
You want to jot down all of your thoughts on posts, but you need to record them in a way that you can refer back to the ideas so that you actually use them.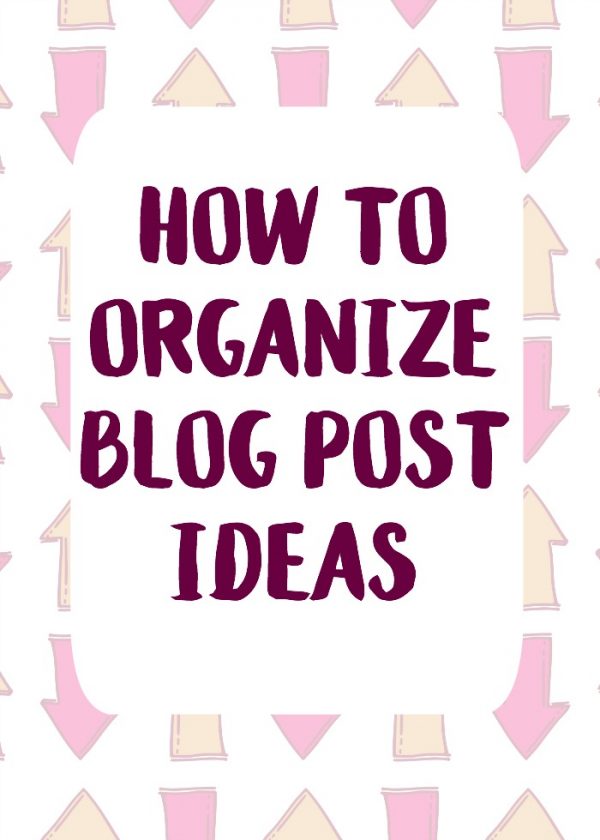 But how should you do this?
The trick is finding the best way FOR YOU.
Below are several methods for organizing your blog posts ideas.
Try a few and see which you like best.
How to Organize Blog Post Ideas
Use an Editorial Calendar plugin
The handy CoSchedule plugin (affiliate link) creates a drag and drop calendar that's extremely helpful to organize blog post ideas.
You can use this to take note of ideas and even schedule them for certain days.
Then, all you need to do is write the post and publish.
Sometimes, a visual representation of your ideas and when they will go live on your blog is the best way to organize your thoughts.
Keep a notebook with you at all times
There will be times when a blog post idea strikes you, and you aren't near your computer.
Ever read a magazine cover while in line at the supermarket and suddenly had a GREAT idea for a post? I know I have!
The solution? A handy dandy notebook.
Keep a small notepad in your purse, car, on the desk…anywhere you may feel inspired.
Shower notes exist for those of us who's minds run free while naked.
Plus, actually writing it down can help some bloggers remember it easier.
Jot them down in your blogging planner
If your planner is looking a little bare on upcoming blog posts, write down a few ideas you have.
At the least, you can later work on fleshing out these ideas and using those that appeal to you at that time.
Create blog themes for certain days
When you have a ton of similar blog post ideas, why not dedicate a special day of the week toward the theme?
This helps keep you organized, and it gives your readers something to look forward to each week.
Mobile apps may be your best tool
If you aren't much of a pen and paper person, there are lots of mobile apps that will help you keep all your blog post ideas together and in one place.
Asana is a great solution for organizing your ideas, and it can sync with your computer once you are home and ready to start working on the ideas.
There are also voice dictation apps available if you like to speak your ideas as you are driving or doing laundry.
What are some ways you organize blog post ideas?