I got some awesome feedback after my first blogging income report.
A few bloggers said I inspired them to either do more or get back into blogging.
I had a PR rep thank me because she didn't realize the expenses we rack up.
It was also beneficial to me.
I keep track of my income and expenses in a few locations, but they are the most accurate in Quickbooks.
That is where I balance everything, and you can be sure it's all completely accurate.
However, I have my cable, electric, and a few other bills in there that skew my bottom line.
Dissecting the numbers like this gives me the most accuracy when it comes to my blogging income.
So, onward ho, shall we?
I am now ready to crank out the numbers for June.
Expenses in June are two words – Bru Tal.
Okay, that's one word said dramatically by me.
I pay my blog hosting fees quarterly, so that's a biggen.
Plus, many other things that I may or may not have gone a bit overboard on.
I guess it's not all bad.
If you don't reinvest in your business, you have to pay more taxes!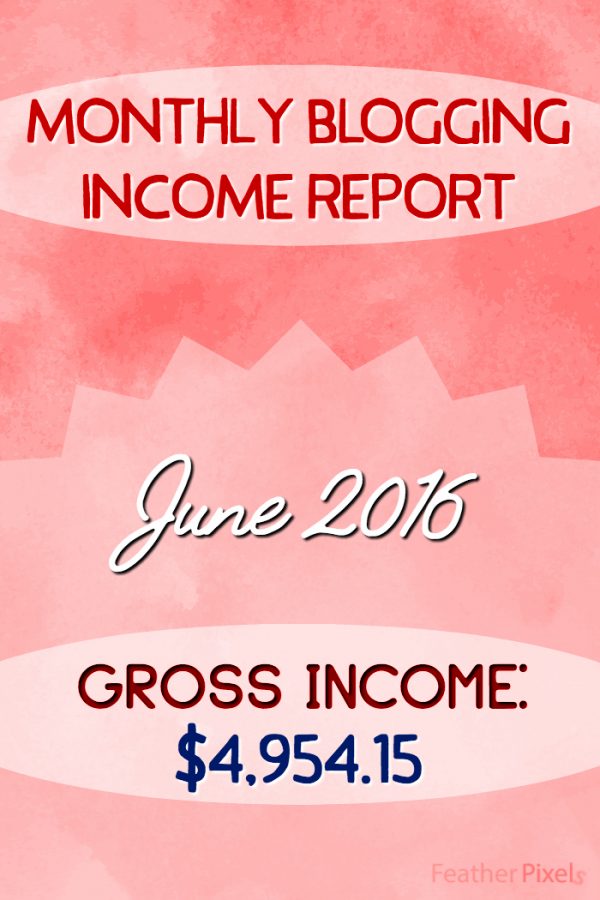 Monthly Blogging Income Report – June 2016
These numbers are for all my blogs.
I will break it down when necessary.
The majority of my blog income comes from SweepTight.com.
I'm adding money received, not billed out.
Many networks pay 60-90 days after work is complete.
June Blogging Income
Sponsored Posts: $3,550.00
Social Posts: $270.00
Twitter Parties: $450.00
Affiliate Income:

Shareasale: $121.99

Most of that amount is from two-tiered referral income.

Amazon Associates: $22.09
Escalate Media: $28.83

Ad Networks:

The Blogger Network: $131.24

Sidebar Widget: $300.00 – Paid in gift cards.
JustSweep.com: $80.00 – My giveaway directory site.
Income Total: $4,954.15
June Blogging Expenses
Content Purchased: $163.00
Photoshop/Lightroom: $10.61
Virtual Assistants:

Main VA (does daily share threads, ghost writing, and more): $110.00

fonts: $58.40 – Clearly, I can't stop won't stop.
Pretty Link Pro: $97.00 In love. It's a link cloaking plugin. It shortens links, and also adds affiliate links to your entire blog effortlessly. I will do a full post on it.
Mailchimp: $50.00 – newsletter.
Facebook Boosts: $2.98
GoDaddy: $34.33 – Domain names.
Hostgator: $75.00 – More domain names. Apparently, I had a spree this time last year.
Jaaxy: $49.00 – Tool I use for SEO keyword research.
MeetEdgar: $49.00 – Social media scheduler.
Pajama Affiliates: $29.00 – Bought another one of their courses. Always quite helpful.
Contributors: $660.95
Snapchat: $5.00 – Custom geofilter I never used.
Social Media Week: $328.57 – Event I will attend in November.
Estimated Taxes: $440.00 – Gotta keep Uncle Sam happy. Paying estimated lightens the load come April 15th.
Shipping: $52.82 – Stamps for the office, and shipped a couple of giveaway prizes.
WiredTree: $559.65 – Hosting for all of my blogs. I pay quarterly for my dedicated server.
WP Site Care: $348.00 – Yearly fee for blog maintenance. They make sure all WordPress updates run smoothly, create backups, and much more.
Total Expenses: $3,123.31
Net Income: $1,830.84
I just broke a sweat over those expenses I am not even kidding.
I knew they were bad, but typing them all out like that felt like punishment.
Lots of big expenses all at once this month for sure.
What I Learned from this Report
As a reminder, I did May's report in July, so I wasn't holding myself as accountable yet.
I canceled a few things in July and, hopefully, cleaned up the expenses a tad.
Talking with my sister, we also realized that I should add her income into the top number.
I pay her for some campaigns, but some she gets on her own, and they pay her directly.
It's technically blog income, it just never passed through me.
I will try to include hers in the next report.
I need to get it together regarding domain names.
I get all these ideas for niche sites and buy the domain names on an impulse.
There's not enough time in the day to follow through, so the domains just sit there.
They aren't a lot of money up front, but as I see here, they certainly add up.
Yikes, if that were my net income every month, I wouldn't be able to do this full-time.
I am responsible for a much larger chunk of our household bills each month, and that wouldn't cut it.
Keep in mind, I still have to pay taxes, including self-employment taxes on that net amount.
Thankfully, my expenses are not this high every month.
This has been another eye-opening report!
If you post a blogging income report, please let me know.
I'd love to read it, or maybe even link up!