My first blogging income report is for May.
I made the decision to post blog income reports, and then quickly felt overwhelmed on how to collect the data.
The most accurate way for me to do so is to pull reports from Quickbooks.
That makes me about a month behind since I have to wait for credit card bills and my monthly bank statements so I can balance.
As you can see, I am taking this blogging income report quite seriously.
If I am going to do this, I may as well include everything.
Since I am an entrepreneur more than a hobby blogger, I need to dissect my numbers and learn as much as possible.
My blogging income pays our bills, so I have to know what's going on each month.
As my Grampa always says, "Figures don't lie; liars figure."
No more assuming that I made enough last month.
Let's see the real deal.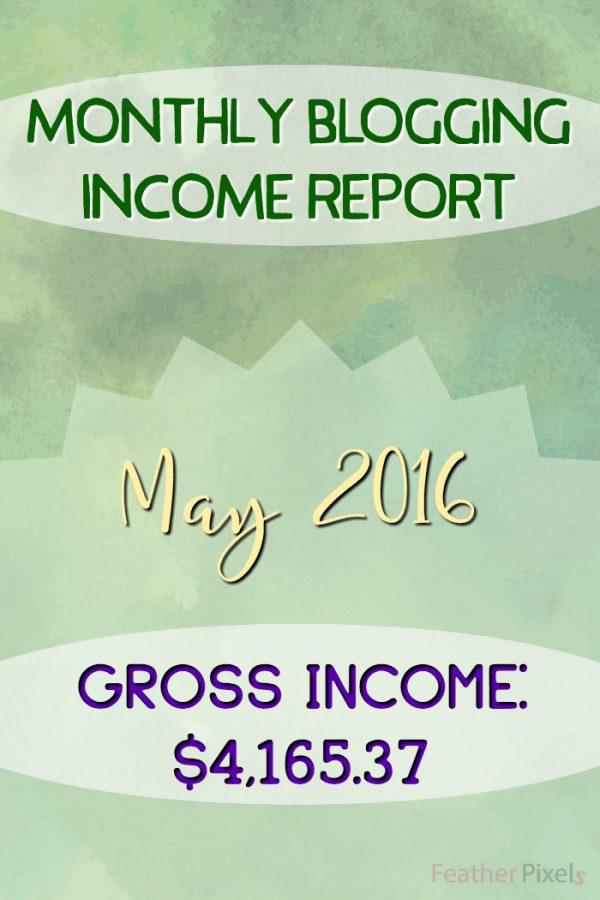 Monthly Blogging Income Report – May 2016
These numbers are for all my blogs.
I will break it down when necessary.
The majority of my blog income comes from SweepTight.com.
I'm adding money received, not billed out.
May Blogging Income
Sponsored Posts: $1,992.50
Social Posts: $100.00
Twitter Parties: $1,010.00
Affiliate Income:

Shareasale: $338.53

Most of that amount is from two-tiered referral income.

Amazon Associates: $42.14

Ad Networks:

The Blogger Network: $67.61
Marfeel: $59.67 – Mobile ads. Let me know if you want a referral.

Sidebar Widget: $300.00 – Paid in gift cards.
Linqia: $16.92 – Referral income.
JustSweep.com: $238.00 – My giveaway directory site.
Income Total: $4,165.37
May Blogging Expenses
Content Purchased: $73.00
Photoshop/Lightroom: $10.61
iTunes: $47.80 – This amount includes extra cloud storage and the Crowdfire App that I use for managing Twitter and Instagram followers.
Virtual Assistants:

Main VA (does daily share threads, ghost writing, and more): $355.50
Walking on Sunshine who submits to recipe and DIY linkups: $45.00 – Please use Jennifer Soltys as a referral if you sign up. Lois is awesome.

fonts: $8.00 – Someone, please tell me I do not need all the fonts in the world.
Mailchimp: $50.00 – newsletter.
Facebook Boosts: $48.49 – A sometimes necessary evil.
GoDaddy: $10.67 – Domain name.
Book: $10.00 – I bought Be Dope, how to create your own Snapchat geofilters.
Jaaxy: $49.00 – Tool I use for SEO keyword research.
JVZoo: $27.00 – I bought something horrible that promised a refund. Never got the refund, never got a response from JVZoo or the seller, and will never buy from them again.
MeetEdgar: $49.00 – Loving them for scheduling social posts. I plan to do a complete post shortly.
Contributors: $413.05
Tailwind: $104.88 – Amazing tool for scheduling pins. This amount is my yearly renewal.
Uber: $34.43 – Took an Uber during an event in the city. Use code: jens3589ue to get your first ride free.
Shipping: $65.75 – Stamps for the office, and shipped a couple of giveaway prizes.
Total Expenses: $1,402.18
Net Income: $2,763.19
I have had worse months and far better months.
It's a livable amount but certainly far below my goal amount.
Remember, I have to pay taxes including self-employment tax on this, too.
So, there's some needed improvement in order to feel good about my decisions to work for myself.
I always compete with the amount I used to make when I worked outside of the home.
I feel like I have something to prove, but I need to shake that since my happiness working from home is something you cannot put a number on.
No doubt I work twice as many hours, but I wouldn't have it any other way!
What I Learned from this Report
A few things I can learn from this blogging income report is that my expenses are a bit out of control.
I need to chill out on the fonts.
It's only $8 this month, but trust me my yearly total is in the hundreds.
I need to buy less content, but again, I am a bit obsessed with having a full editorial calendar.
I could get rid of MeetEdgar, except we plan to use that for another business soon.
I may switch back to the free version of Crowdfire.
There are other tools I pay for that are not on this list since I pay them yearly or quarterly.
The above list consists of only transactions that occurred during the month of May.
Trust me, I am grateful to be able to make a living off doing what I love, but I have goals – big goals.
So, I feel motivated that I went through this.
Time to kick some butt and up those numbers.
My dream animal sanctuary is waiting!
If you post a blogging income report, please let me know.