With the summer being super busy, writer's block may hit you hard.
You want to be out enjoying the sun, not behind the computer.
Start planning your summer editorial calendar as soon as possible, and include these 20 summer writing prompts for bloggers if you are feeling stuck.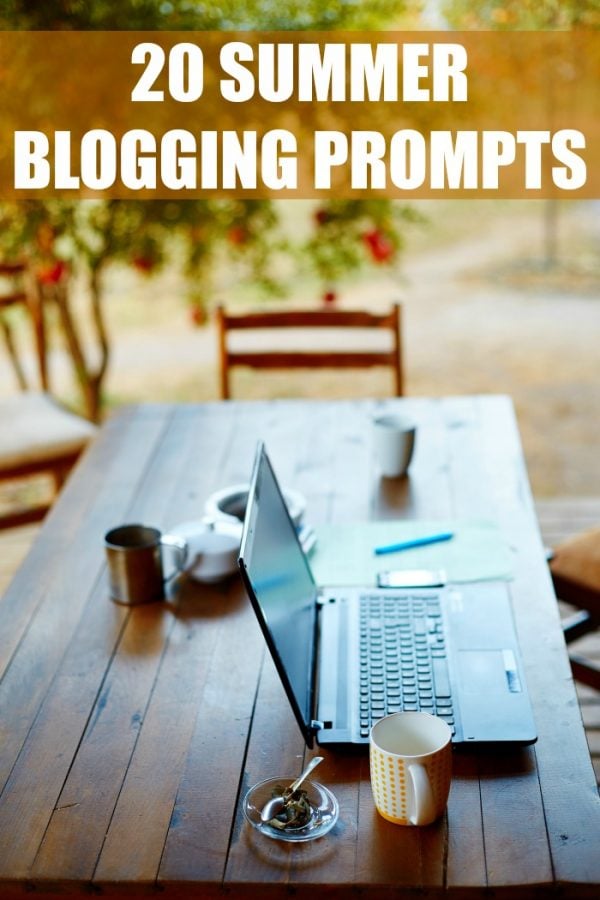 20 Summer Writing Prompts for Bloggers
1. Summer Travel Must Haves
Share the essentials that you take on any vacation or road trip with your readers.
Include items you pack for yourself as well as your children.
If you travel with pets, don't forget to include their most-needed items.
2. My Ideal Summer Vacation
Everyone has a dream destination or excursion in his or her mind.
Use your blog to share what your ideal vacation looks like.
Where would you go? What would you do?
3. Fun Summer Activities for Babies/Toddlers/Kids
This could be a blog roundup (those do amazing on Pinterest!) or a short list of the favorite things your little ones like to do in the summer.
Include images so your readers can see your kids having fun too.
4. Summer Safety Tips
The summer season brings a ton of injury potential, especially for children and pets.
Get creative and write a safety tips post for being in the sun, traveling, or visiting a zoo or waterpark.
You could create a whole series exploring different things you enjoy in the summer and the safety precautions that your readers should take.
5. Best Summer Locations for Relaxing
People need more downtime in the busy summer months.
What places in your area are great for taking a book, leaning against a tree, and enjoying the gorgeous weather?
6. My Favorite Grilling Recipe
People want new, fresh ideas for the grill during the summer.
Share your favorite dish complete with mouthwatering photos.
7. Summer Reading List
Create a list of books you hope to read during the summer and share them in a blog post.
As you finish each book, be sure to write a review for your visitors to read and discuss.
8. Preparing your Home/Car/______ for Summer
There are a few things you do each year to get ready for the hot summer season.
Document your preparations via photographs or video to share in a blog post.
9. Perfect Summer Date Night
Do you enjoy a romantic picnic and stargazing once it's dark?
Heading out for a night of dancing more your speed?
Detail your ideal summer date for your readers.
10. Mid-Year Check In
If you blogged in January about resolutions or goals, now's the time to update your readers with your progress.
It can also be a good time to set 6-month goals to achieve by the end of the year.
11. Summer Bucket List
Create a list of things you or your family wants to accomplish during the summer.
Include fun things like visiting the beach as well as home improvement tasks or chores.
12. Our Favorite Road Trip Games
Do you and your family enjoy playing fun games while on the road?
Share the best ones with your readers, complete with instructions on how to play.
13. My Best Boredom Busters
Kids are bound to start feeling bored being home all summer.
Create a post detailing how you beat boredom for your own children.
14. Fun Summer Crafts
One way to keep children entertained over the summer is craft activities.
Share simple activities that many kids can do on their own.
Your readers will thank you for the free time they gain!
15. What Childhood Summers were Like for Me
Get a little personal with your readers and tell them about the activities you did as a kid.
Share any memorable vacations or events.
16. Summer Fashion Tips/Ideas/Tricks
Everyone wants to look their best while at the beach or pool.
Create a list of your favorite tips for fashion and beauty.
17. Ideas for Staying Cool this Summer
The summer is so darn hot!
Gather up your favorite ways to keep cool, whether it's heading down a water slide or making DIY popsicles.
18. A Day in My Summer Life
How is life for you and your family during the summer?
Crazy? Busy? Low-key?
Chronicle a typical summer day in photographs, from wake up to bedtime, and share it with your readers.
19. My Hot Summer Playlist
Share your favorite music for lounging by the pool, going for a late afternoon walk or play time with your pets or kids.
20. Summer Movie Must-Sees
What's coming to theaters that you can't wait to watch this summer?
Create a list complete with trailers and synopses for your readers to enjoy.
Do you have any suggestions for summer writing prompts?