Most bloggers would love to know how to blog less in the summer.
Those that have kids on summer break will want to spend their days lounging by the pool, traveling to the beach, or doing 1,000 other outdoor activities.
Your readers will be busy participating in a lot of these activities as well, so don't be surprised if you see a dip in your website traffic.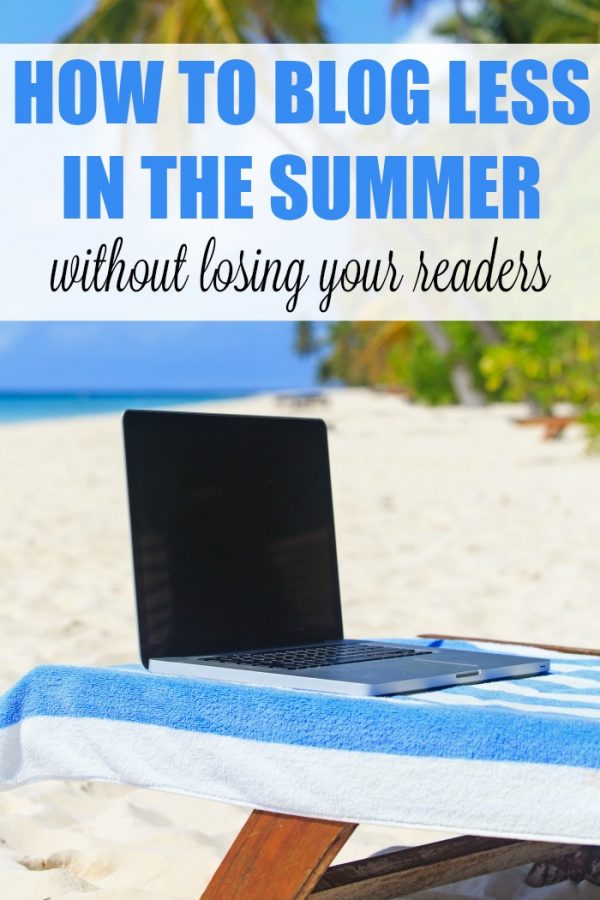 This may raise the question, how do you blog less so you can enjoy the summer without your readers totally forgetting you?
Relax! Use the following six methods for keeping your readers around even when you aren't super committed to your blog during the summer months.
How to Blog Less in the Summer Without Losing Readers
Schedule content in advance
If you know you are going to be busy and need time away from your blog during the summer, use the months leading up to the season to fill your blog with scheduled content.
Most platforms make it easy to write out a post and set it to publish at a later date.
Think about the topics that will be hot during the summer – back to school, grilling recipes, wedding planning, outdoor crafts, and activities – and begin working on them as early as April to have your blog continuously updating even when you aren't in front of the computer.
Seek out guest posts
Having other bloggers contributing to your blog means less work for you, without having to worry your readers will forget you.
Find bloggers in your niche, so that the posts will be interesting to your site visitors.
Make sure to offer a byline with a link to the writer's blog in exchange for the free content.
Update and republish old blog posts
If you have a ton of stale content that isn't getting much traffic, summer is a great time to freshen it up.
Sometimes, all a post needs is a new, pinnable image and a new published date to spark interest in the content.
This saves you time from having to create new posts during the busy months of summer and lets work you've done in the past pay off again.
Purchase content from ghostwriters
There are many Facebook groups filled with writers offering high-quality content every day – even in the summer.
Once you have purchased the content, it's yours to post as if you wrote it yourself.
Join a few of these groups and purchase blog posts, recipes, or DIY tutorials that fit your blog.
Your readers will be kept happy while you spend less time on your computer.
Stay active on social media
Even if you have slowed down with blogging during the summer, you can still connect with your readers.
There are so many networks where you can have conversations to keep you and your blog fresh on the minds of your followers.
Use Periscope and Snapchat to share your family travel or outdoor activities.
Instagram is still hot for quickly sharing your summer food, fun, and adventures too.
Don't forget to keep emailing regularly
Email is a great way to keep in touch with your readers even if you aren't blogging daily during the summer.
In your newsletters, you can highlight older evergreen posts your followers may want to read when there's no new content available.
Do you have any tips on how to blog less during the summer?