I tend to dive into the deep end with everything I do in life.
Of course, this was no different when I decided to try my hand at affiliate marketing.
I joined anything and everything that I could find about multiple affiliate programs.
There are many pros and cons to this approach.
This post contains affiliate links.
First, let me say that if you want to simplify things and ease into affiliate marketing, Amazon associates is probably your best bet.
Unless your state prohibits you from joining, Amazon is the easiest way to start incorporating affiliate links into your blog posts.
It works seamlessly with the Lasso plugin, and people feel comfortable shopping through Amazon.
Some affiliate marketers only use Amazon and do quite well for themselves.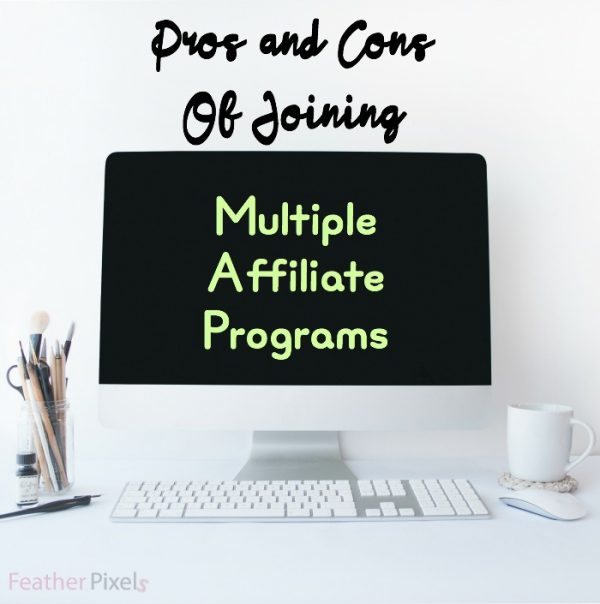 Pros and Cons of Belonging to Multiple Affiliate Programs
Allow me to share the pros and cons of belonging to multiple affiliate programs.
This is based on my experience since 2010, although I only got serious about affiliate income in 2015.
Emails
Once you belong to multiple affiliate programs, you will get bombarded with emails.
Take Shareasale, for example.
Once you belong to Shareasale, you join each company that interests you within their network.
Each company that approves you will send you emails with coupon codes, specials, and promotions that you can promote as an affiliate.
There's an option to unsubscribe, but who takes the time to do that? 😉
Pro: Depending on your blog niche, promo emails from the brands might be valuable to you.
If your readers love coupon codes, you will always have the latest for them.
If the brand decides to run a bonus opp, that can be a sweet way to beef up your payout.
My favorites are the two-tiered bonuses on Shareasale.
By recommending your blogger friends to the affiliate program, you can earn a bonus.
Also, several companies offer bonuses if you add their banner, create a blog post, or other actions to boost your incentive to promote them.
Con: Easy to get overwhelmed with a flooded inbox.
Also induces "shiny things syndrome" which can cause you to create multiple niche sites that you have zero time for.
Payouts
Each platform has different payout requirements and schedules.
Pro: It's always a smart idea to have money coming from multiple sources.
If you reach the thresholds for each network you work with, it can be a nice stream of monthly income.
Con: Reaching the threshold can be challenging.
Take, Commission Junction, for example.
I didn't reach their $100 payment threshold in time.
They penalize you for inactivity by deducting each month.
So, my once $80 balance in CJ is now completely gone.
Needless to say, that's not encouraging.
Relationships
Don't forget that there are real eyes behind all these programs.
Each time you sign up to a company's affiliate program, they are most likely checking out your site.
Pro: I have had several brands contact me after I have joined their program — mainly through Shareasale.
On numerous occasions, this has led to working with the brand more in depth than just their affiliate program.
Con: None. Creating brand relationships is never bad if you ask me!
I am sure there are many more pros and cons to signing up for everything under the sun, but those are the biggies for me so far.
I happen to be one of the many bloggers who have the fear of missing out.
I want to belong to everything even though it causes my head to spin.
Do you belong to multiple affiliate programs?