School breaks are fun for kids, but may be difficult for moms that blog.
With children underfoot all day, you may find that you can't get work done as usual.
Never fear – there are some tips to blogging while the kids are on summer break.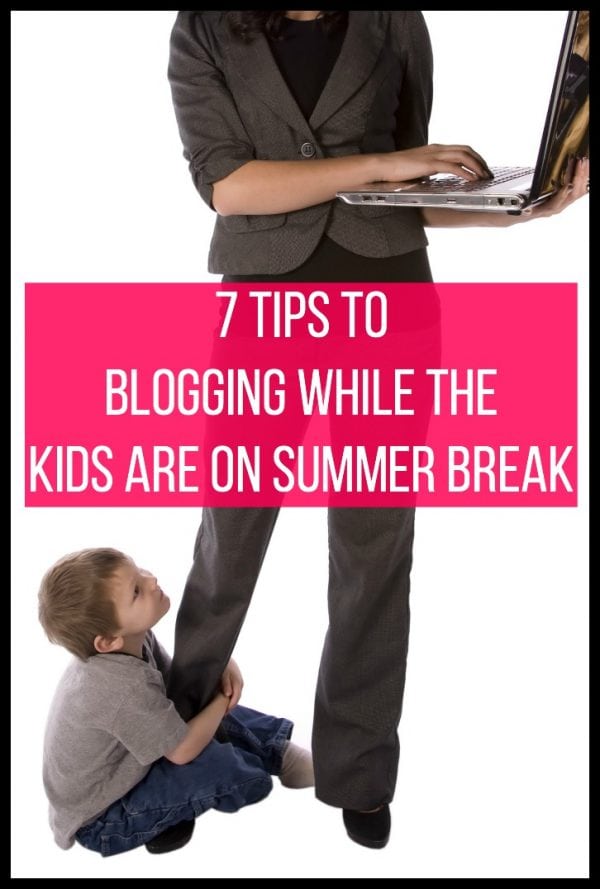 7 Tips to Blogging While the Kids are on Summer Break
1. Adjust your schedule
If you are used to getting your blog work done while the kiddos are in school, you may have to change your hours to fit in with summer activities.
Try getting up early before the kids or working later in the afternoon if and when someone else is home to play with them.
2. Consider childcare
If you have little children that need more tending to than teens, hiring a mother's helper a few days a week can give you the peace you need to blog.
This is usually a family friend or neighborhood teenager that can come over for 2-4 hours, three days a week.
3. Create a "Boredom Busters" box
It's likely you will hear "I'm bored" at least once or twice a week while you're trying to blog on summer break.
Kids love being occupied, so prepare for these situations with lots of fun activities.
Fill a box with coloring books, workbooks, games, puzzles, and other toys that your kids can dig into so you can have a little quiet time to work.
Ordering a few subscription boxes for kids is also an option.
4. Seek out local summer fun for kids
Summer camps are a great way to free up a few hours of your day to blog.
They also get your kids active and out of the house, so they aren't stuck in front of the TV all day.
They will likely sleep in the next morning after all the fun they have – which means more quiet blogging time!
5. Take your blog outside
Most kids do not want to stay inside all summer.
Fortunately, if you have a laptop, you can join them outdoors while they splash through a sprinkler or have fun on the playground.
It is a win-win, as you can get some work done while they exhaust all their energy.
6. Form a playgroup with other WAHMs
You are likely not the only mom in the area struggling to keep up with work when the kids are on summer break.
Contact other work at home mothers and coordinate play dates.
Create a schedule that rotates, so all moms get a break to work while their children play together.
7. Outsource blogging tasks
Having a virtual assistant during the summer is a great way to keep up with your blog without having to ignore your children.
Hire out for the small tasks that take up most of your time – social media shares, emails, or editing images for posts.
Having the freedom of working at home blogging means you can still earn money while your children are at home for summer break.
And you can spend time with them!
Use any or all of the tips above so you can balance your blog with family time in the summer so that everyone is happy!
What are your tips to blogging while the kids are home?