Here is our blogging income report for October 2016.
I apologize that it's out so late.
This month has been crazy busy in a good way.
Since this one is so late, November's will be out shortly after.
Note: This post was transferred over from my main blog, amagicalmess.com.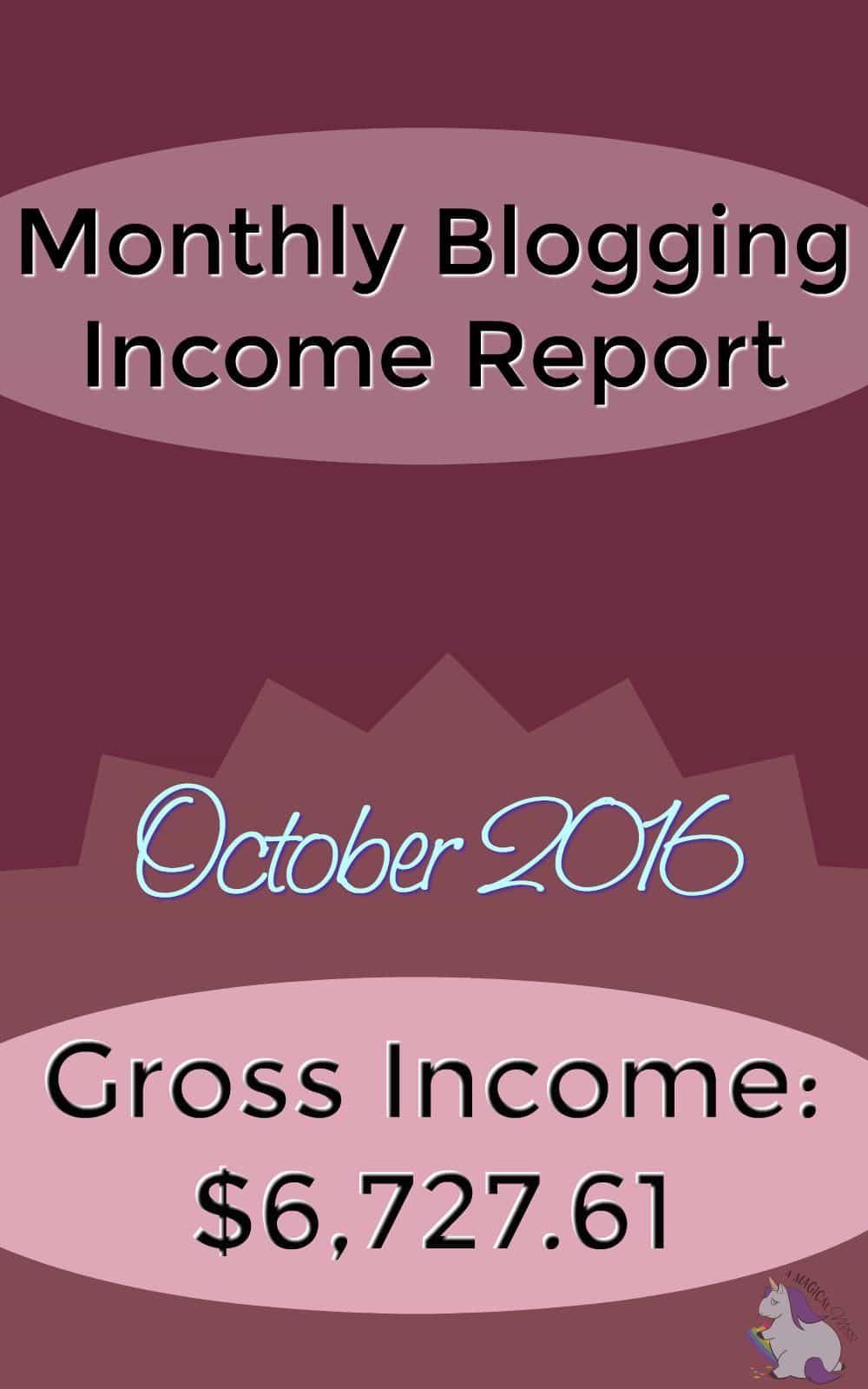 Monthly Blogging Income Report – October 2016
These numbers are for cash received during the month.
In my Quickbooks, I choose "cash basis" instead of "accrual" to get these numbers.
So, it doesn't include work done during the month unless they pay right away.
Many networks pay 60-90 days so money can come in from work done months ago.
October Blogging Income
Sponsored Posts:

Linqia: $1,104.30
Wolf Best Buy: $200.00 – Paid in gift cards.
IZEA: $300.00
Other Sponsored Posts: $2,950.00

Social Posts: $350.00
Affiliate Income:

Shareasale: $109.17
Amazon Associates: $100.63 (Part of this is from Amazon CPM ads)

Ad Networks:

The Blogger Network: $21.23 This is probably the last month for them since I switched to Mediavine for ads.
Marfeel: $7.28 – Mobile ads.

Sidebar Widget: $300.00 – Paid in gift cards.
JustSweep.com: $150.00 – My giveaway directory site.
Shelley's Income: $1,135.00 – What Shelley made through the blog on her own.
Income Total: $6,727.61
October Blogging Expenses
Photoshop/Lightroom: $10.61
Apple iTunes: $31.73
Virtual Assistant: $108.00
convertkit: $29.00 – newsletter.
CoPromote: $49.00 – Promote social shares. There's a free version, as well.
Easy Product Displays: $62.99 – Neat and organized way to display products. This is the yearly fee.
GoDaddy: $16.34 – Domain name.
Hostgator: $60.00 – Domain name renewals.
ManageFlitter: $12.00 – Manage Twitter followers.
Shelley: $944.00 – What I paid my sister directly.
USPS: $13.45 – Cost to ship prizes.
Total Expenses: $1,337.12
Net Income: $5,390.49
Shelley works with some partners on her own and is paid directly.
That number is reflected in the top portion.
The bottom number is when I am paid for something she does, and I have to pay her.
So, subtract her amount, and I am left with $4,255.49.
Of course, I still need to pay taxes on that amount, and not all of it can leave the business bank account, but it's a decent number.
What I Learned from this Report
Since I started doing these reports, I am a lot more mindful of my spending.
There used to be many times were I would purchase something for the blog and quickly say, "Oh, it's a write-off" or something to justify it.
When I started seeing it all in front of me, I realized how much it added up.
My spending is a lot better now.
Well, at least for this month. 😉
If you post a blogging income report, please let me know. I'd love to read it, or maybe even link up!