Sponsored posts are how I earn the majority of my income as a full-time blogger. Content creation is a valuable marketing tool for companies, and us bloggers are an excellent and affordable option for them. Some of these links contain my referral link, but all opinions are my own.
Once you have carved out your little spot on the web and feel as though you are ready to apply for sponsored posts, here are some places where you can sign up.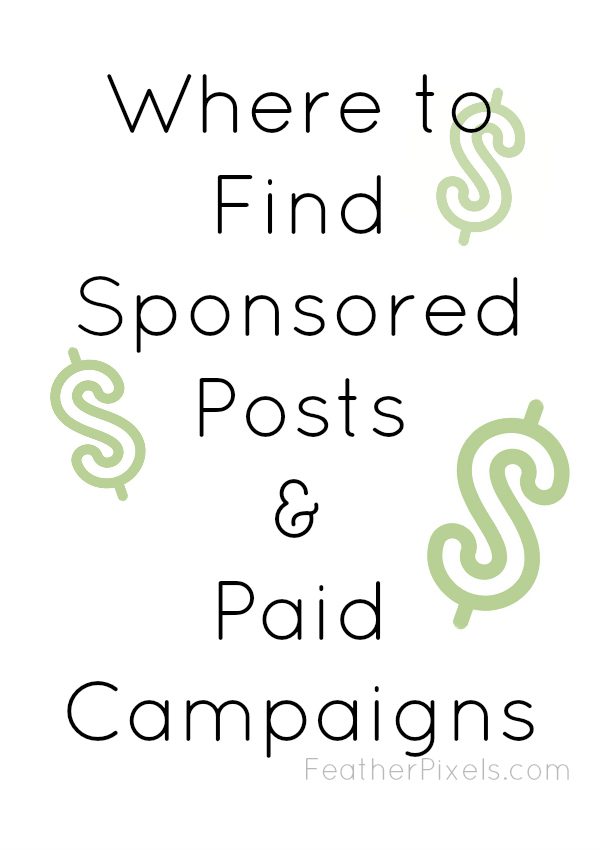 Where to Find Sponsored Posts and Paid Campaigns
Linqia – Linqia offers sponsored posts using a unique tracking link. For your first opportunity, they will estimate the amount of clicks that you may receive to your link based on your traffic. Your pay is based on that number. The amount is adjusted after each campaign. These opps can pay really well, but also be a lot of work. You cannot ask for clicks, so you have to get very creative to reach your click goal.
Advowire – Lots of Instagram opps and some quick sponsored tweets.
ShopHer Media – At first glance, it looks like a couponing site. However, they do offered sponsored posts on occasion.
Social Fabric – Social Fabric is much more than a sponsored post source. They are a community. Collective Bias is the main company, and Social Fabric (SoFab) is the large community of bloggers. They offer shoppertunities, which are a unique way for bloggers to work with brands. SoFab looks for excellent storytellers that create fabulous content. They offer free courses via SoFabU, which are valuable to both new and experienced bloggers.
Influence Central – Mom Central is now Influence Central. Sponsored opportunities are emailed to the members. You can then apply based on your interest. They pay in amazon gift cards, which I actually don't mind at all. There was talk about switching over to paypal, but it hasn't happened as of yet.
Activate – Activate by Bloglovin is a platform where members can log in and apply for opps. I haven't done much with them, but sometimes there are very easy sponsored tweets or pinterest giveaways that you can promote.
Sway Group – Run by The SITS Girls, Massive Sway offers some great sponsored post opportunities. They look for high-quality work and prefer blogs with a good balance of sponsored vs. non-sponsored posts.
Clever Girls – Once you get their emails, you can then apply for posts, social shout outs and more.
Mirum Shopper – Pay is great, but sometimes extremely slow. This is something they are working on.
IZEA – IZEA used to be one of my favorite sources, but not so much anymore. Ever since they moved to their new platform, I feel like I rarely work with them. I pay for the $1 per month membership. I still do some here and there, but nowhere near how it used to be.
The Blogger Network – They offer sponsored posts and an ad network. The UMV requirements tend to be very high.
Acorn Influence – Pay well, clear instructions, and easy to work with.
Social Moms – Obviously, geared towards moms, but I have done a few fun opps with them.
One2One Network – Different social campaigns that range in pay. Sometimes they pay in Amazon gift cards.
DataRank – Worked with them once last year. Hope to do so a lot more in the future.
ShopShare – They do a lot of hybrid deals, meaning flat rate plus affiliate earning potential.
SheKnows Partner Network – Paid social shares, sponsored posts, and more.
BlogPaws – For bloggers who have pets. You don't have to have a pet blog, but you should blog about your pets occasionally to be accepted for their sponsored posts.
Socialix – This fun little platform has a bit of everything. Affiliate links, coupon codes, sponsored posts, and even banner ads. Worth checking out.
Mom Spark Media – I am not currently signed up for their paid membership to receive sponsored invitations, but I have worked with them as a twitter party panelist.
Mom it Forward – They send out a newsletter where you can apply for campaigns.
Child's Play – Email them to introduce yourself. They send out opps as they fit.
Zig Marketing – Not entirely sure to be honest, but they are on my income sheet for 2014.
Social Media Chicks – They seem to have fun opps around holidays. They are organized and easy to work with.
Niche Parent – I have done sponsored posts and twitter parties with them. Very good pay and easy to work with. I have heard amazing things about their conference, as well.
SheSavvy – Sponsored posts.
CrowdTap – CrowdTap is mainly a reward-based platform, but I did do one sponsored post for them last year.
Cooperatize – Another pay per click platform. I worked with them twice. There's a base pay and then the option for a bonus based on clicks.
Find Your Influence – I have heard amazing things. Just figured out that I never completed my application. That's kind of an important step. :/
Babble Boxx – They have reached out to me with a few gigs. Very easy to work with.
Collectively – Just did my first project with them and they rock. Hope to work with them a lot more. Clear instructions and fast pay.
Markerly – Compensation is pretty good, and they pay fast. Within two days of completed work, they pay via paypal.
TapInfluence – The key to this platform is to fill out your media kit completely. Tweak your rate because whatever you put, is usually what you are offered.
Social Stars – I recently signed up but have heard nothing but great things. Update: This is CrowdTap's platform. I fricken love it and hope to see a lot more campaigns.
Pollinate Media – High UMV requirements, but some nice opportunities to work with brands.
Everywhere Agency – I have yet to work with them, but I get their emails that have fun opps to apply for. Lots of events at stores like Macy's. They seem to be mainly in the Midwest unless that's just targeted to me.
Brand Mavrcks – When you sign up you connect your social accounts. They will reach out if they have a brand gig that fits.
vetterview – Influencer platform where you can create pitches for brands to view.
Goodness, I feel like I just blabbered on for quite too long. There's still more than can be added to this list. Reach out to PR companies to ask about sponsored posts and even ambassadorships. Don't be afraid to pitch yourself.