Sponsored posts are how I earn the majority of my income as a full-time blogger.
Content creation is a valuable marketing tool for companies, and us bloggers are an excellent and affordable option for them.
Some of these links contain my referral link, but all opinions are my own.
Once you have carved out your little spot on the web and feel as though you are ready to apply for sponsored posts, here are some places where you can sign up.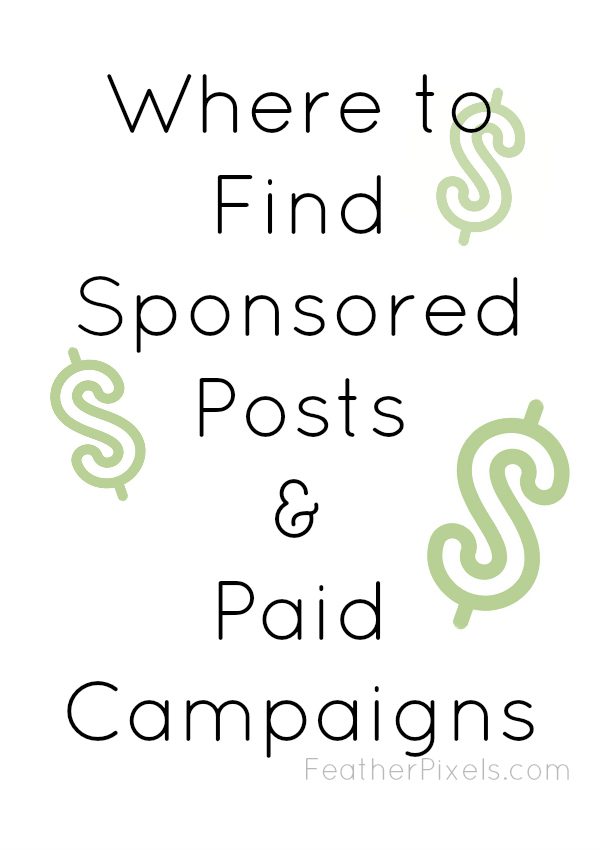 Where to Find Sponsored Posts and Work with Brands
Linqia
Linqia offers sponsored posts using a unique tracking link. For your first opportunity, they will estimate the amount of clicks that you may receive to your link based on your traffic.
Your pay is based on that number. The amount is adjusted after each campaign. These opps can pay really well, but also be a lot of work.
You cannot ask for clicks, so you have to get very creative to reach your click goal.
ShopHer Media
At first glance, it looks like a couponing site. However, they do offered sponsored posts on occasion.
Join and fill out the spot with your rates. They will reach out if a sponsored opportunity is a good fit for you.
Social Fabric
Social Fabric is much more than a sponsored post source. They are a community.
They offer shoppertunities, which are a unique way for bloggers to work with brands. SoFab looks for excellent storytellers that create fabulous content.
Influence Central
Sponsored opportunities are emailed to the members.
You can then apply based on your interest.
Activate by Bloglovin is a platform where members can log in and apply for opps.
This is a platform that I check more than once a day.
There are typically many sponsored posts to apply for, and some easy social share promotion opps.
Run by The SITS Girls, Massive Sway offers some great sponsored post opportunities.
They look for high-quality work and prefer blogs with a good balance of sponsored vs. non-sponsored posts.
Sway sends a newsletter when new campaigns are available.
In addition to sponsored posts, they frequently pay for tweets, social shares, and twitter party panelists.
Once you get their emails, you can then apply for posts, social shout outs and more.
Mirum
Mirum emails you with sponsored campaigns that meet your blog niche.
Fill out the form on their contact page to request to add your blog.
IZEA is a platform where bloggers and influencers bid on work.
Once you work with them a few times, they may reach out with campaigns that are a good fit for you.
Otherwise, you have to visit the platform to apply or bid on campaigns.
Join Acorn to receive invitations to bid on sponsored post campaigns.
Once you join, I believe they reach out when there's a good fit for partnership.
They send out a newsletter where you can apply for campaigns.
Even though I am not a mom, I've worked with Mom it Forward on sponsored posts and twitter parties.
Child's Play
I haven't worked with them often as I don't have children, but I believe they email with campaigns that fit your niche.
Sponsored posts, ambassadorships, twitter parties and more.
They email when campaigns are available.
SheSavvy
I believe they are mostly an affiliate network, but seem to have influencer opportunities as well.
CrowdTap is mainly a reward-based platform, but I did do a sponsored post with them, so it might be worth including.
Sponsored influencer opportunities.
Babble Boxx
Sponsored post opportunities that usually include a box of items matching a theme.
They email surveys to see if you're a fit for upcoming campaigns.
Markerly
Sponsored posts and social shares.
TapInfluence
The key to this platform is to fill out your media kit completely.
Tweak your rate because whatever you put, is usually what you are offered.
They typically require high monthly page views, but offer some quality brand partnerships.
Everywhere Agency
They send a newsletter with available sponsored campaigns.
Once you sign up, they send out emails to apply for campaigns.
Lately, all of the sponsored opportunities have been through Instagram.
Influencer platform where you can create pitches for brands to view.
Sponsored blog posts and social media shares.
Mainly food and craft focused.
Best Buy Influencer Network
Work with Best Buy to review products, share tweets, and update your fans about gadgets.
They pay in gift cards to Best Buy.
Mostly movie and entertainment focused, ask them about sponsored post opportunities.
Instagram influencer campaigns mostly.
I believe you have to work in exchange for product a few times before getting paid offers.
iConnect
Sponsored posts, product reviews, and ambassadorships.
Ideal for the family niche.
Kitchen PLAY
Sponsored posts, events, and more.
Nakturnal
I don't see a way to signup, so reach out through their contact form.
I've done sponsored posts and updated old posts to include nofollow links through them.
If you have over 500 followers on Instagram, download the Peersway app to apply for campaigns.
Run by bloggers, they send emails with available opportunities.
Shepherd
Brand partnerships. Contact them to introduce yourself and your blog.
Soapbox
Join Soapbox Influence for sponsored blog posts and social shares.
Work with brands through Instagram.
They don't pay as much as others, but they do pay quickly.
Join and they will reach out with campaigns that fit.
Join DriveShop for vehicle loans, but feel free to pitch them with sponsored story ideas.
Pitch Yourself, too!
I'm sure there are more to add to this list and new ones popping up all the time.
Reach out to PR companies to ask about sponsored opportunities and campaigns.
Pitch brands directly to cut out the middleman and, in most cases, make more.
Do not be afraid to pitch your ideas to brands or send them your media kit.
If you want helpful tips on how to pitch, read this book by Brandi Riley.