I am getting caught up on income reports now.
I cannot believe this is November's and only one more month left after this.
Doing income reports has helped me envision some of my 2017 goals, too.
I plan to do a post on my new year blog goals soon.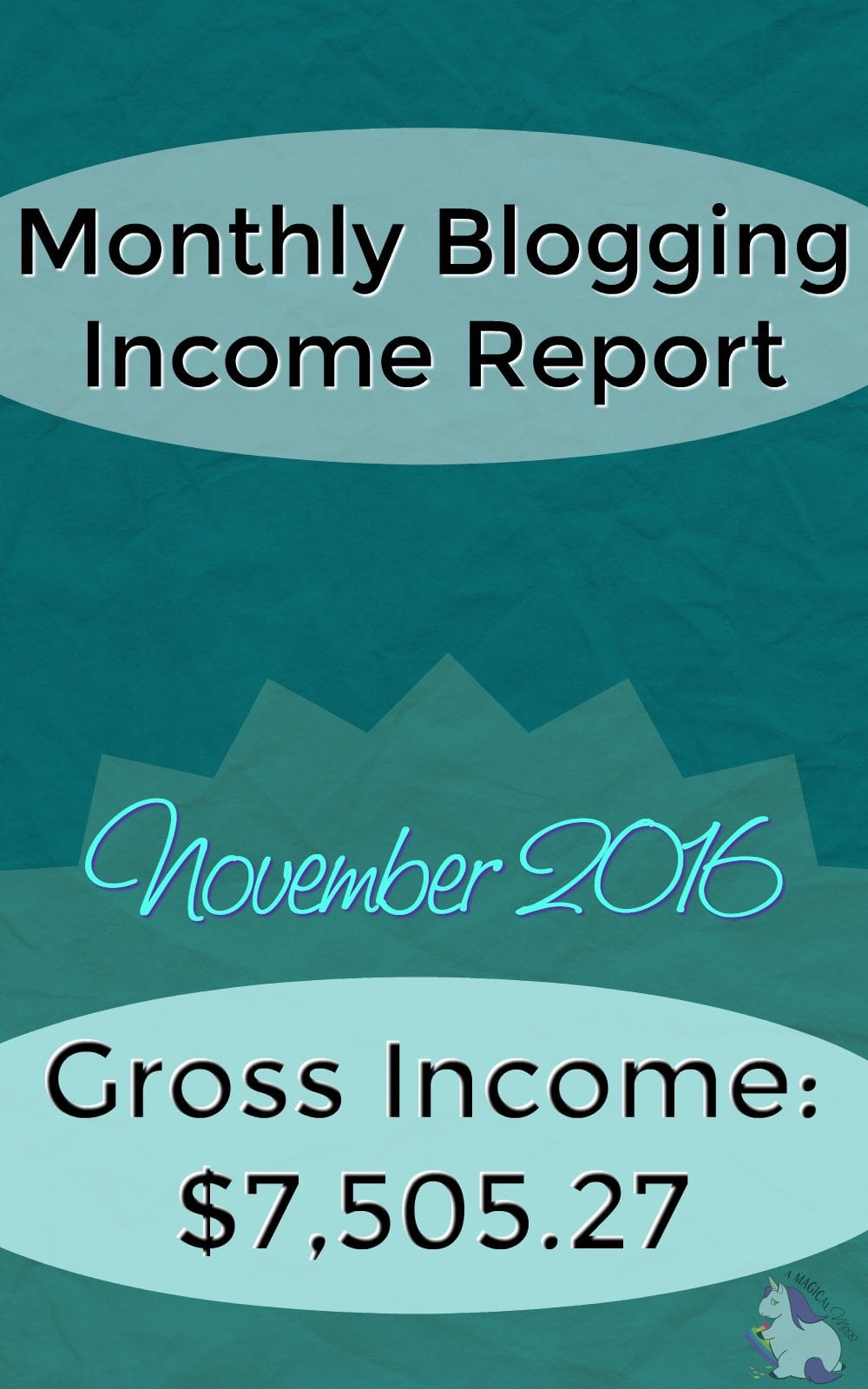 This month stings a bit for me because we went to an event that was a fail.
The event itself was paid for back a few months, but we still had to pay for the hotel, parking, and food.
If you add up the total cost for the event, it's nauseating.
Especially since the we barely attended it.
First of all, the event was horribly put together.
Secondly, both of us got a bit sick on the second day. It wasn't a total lost, though.
We got to spend some great sister time together and had lots of laughs.
But, dang… we could have done that for a lot less money.
Monthly Blogging Income Report – November 2016
These numbers are for cash received during the month.
In my quickbooks, I choose "cash basis" instead of "accrual" to get these numbers.
So, it doesn't include work done during the month unless they pay right away.
Many networks pay 60-90 days so money can come in from work done months ago.
November Blogging Income
Sponsored Posts:

Linqia: $390.00
Wolf Best Buy: $300.00 – Paid in gift cards.
Other Sponsored Posts: $3,047.50

Social Posts: $167.00
Twitter Parties: $450.00
Affiliate Income:

Shareasale: $95.45
Amazon Associates: $80.92 (Part of this is from Amazon CPM ads)
Skimlinks: $12.54 – I didn't even think I had this active, so this was a surprise payment.

Ad Networks:
Sidebar Widget: $300.00 – Paid in gift cards.
JustSweep.com: $85.00 – My giveaway directory site.
Shelley's Income: $2,455.00 – What Shelley made through the blog on her own.
Income Total: $7,505.27
November Blogging Expenses
Photoshop/Lightroom: $10.61
Parking Garages: $150.00
Apple iTunes: $.99
Virtual Assistant: $14.00
convertkit: $29.00 – newsletter.
CoPromote: $49.00 – Promote social shares. There's a free version, as well.
CoSchedule: $575.87 – I upgraded and paid yearly for the savings.
Hostgator: $15.00 – I think I must buy domain names in my sleep.
Hotels.com: $548.08 – Stayed in a FABULOUS hotel for a crappy event.
ManageFlitter: $12.00 – Manage Twitter followers.
USPS: $20.25 – Cost for shipping prizes.
Wisestamp $36.00 – Email signature renewal.
Shelley: $1,132.56 – What I paid my sister directly.
Total Expenses: $2,593.36
Net Income: $4,911.91
Deduct Shelley's income and that leaves me with $2,456.91.
$600 of that is gift cards.
After taxes and what needs to stay in the bank, that is not enough for me to pay my share of the household bills.
What I Learned from this Report
A pricey learning experience to take away from this is to be extra choosy about the events we attend.
I think I need to set a solid budget for 2017 events.
Otherwise, it's very easy to get caught up in the moment and snatch up tickets on a whim.
It's easy to forget about all the other expenses that go along with the whole trip.
Even though this particular conference was in Chicago, it made the most sense for us to stay in our non-refundable hotel room.
Don't even get me started about the physical toll it takes one me, too.
With my anxiety all sorts of stuff happens to me when I leave my house.
I need to remember this next time.
If you post a blogging income report, please let me know.
I'd love to read it, or maybe even link up!