Most likely good blog post ideas pop into your head several times per day.
Sometimes my mind races with ideas, and I don't know exactly how to process them all.
One key to stopping your ideas from becoming too overwhelming is to break them down into a few posts.
Allow me to explain what I mean about getting the most out of good blog post ideas.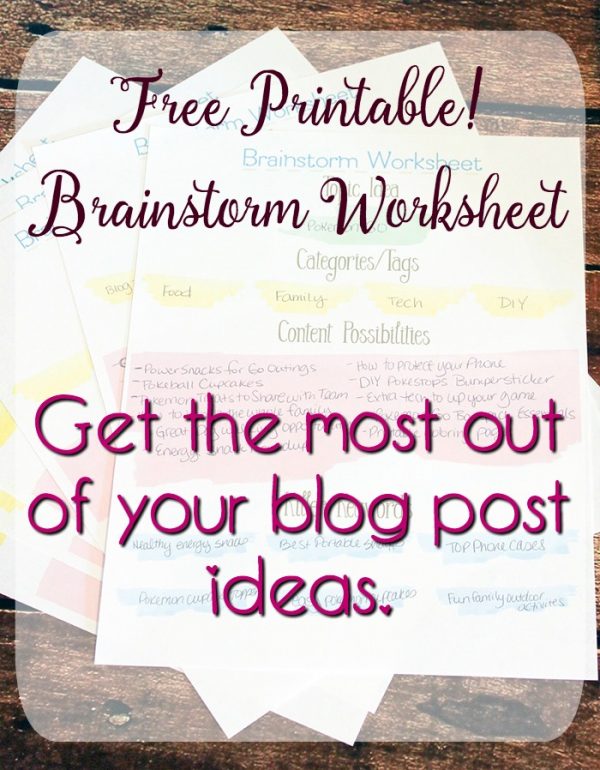 Okay, so you have your blog and, most likely, a niche.
Then, you have categories and tags to further break down what you write about.
Therefore, it makes sense to use that as a guide for your post ideas.
It doesn't work for everything, but here's an example of what I mean.
My sister had the idea to write about the new craze, Pokemon GO, on SweepTight.com.
The game is taking over the world, basically, so there's a lot to write about.
Instead of packing it all into one post, it's easy to break it down into several posts to fit into categories and tags.
Since Sweep Tight is a lifestyle blog, we don't have too narrow of a niche at all.
But, I like to stick to the categories on the homepage.
How to Get the Most out of Your Good Blog Post Ideas
If you have a narrow niche and not a lot of categories, you can also use tags for this exercise.
Here's an example of how we came up with ideas on Sweep Tight using categories.
We take the main categories that show up on the home page and think about how our topic (Pokemon GO) can fit.
Here's what we came up with:
Food and Recipes: Power snacks to take with on Pokemon GO hunts. Treats decorated to look like Pokeballs.

Family and Pets: How the game is closing generation gaps – fun for all ages. Great chance for extra dog walks. Dress your dogs in Pokemon costumes (if it's not too hot).

Technology and Gadgets: Pokemon GO tips every player should know. Extra gadgets to help you play better. Phone cases and supplies to protect your devices. How to level up fast in Pokemon GO.

Fashion and Beauty: What to wear for optimal Pokemon GO outings. What's in my Pokemon GO backpack? Most comfortable shoes for tons of walking.

Health and Fitness: Effortless exercise. How to rack up steps while having fun. How the game gets even the most reclusive out and about.

Crafts and DIY: Make your own bumper sticker to warn others about your Pokestops. Safety printables.
Now, if I were to do the same topic on Feather Pixels, I would have to get a little more creative.
Since this blog is basically about booze and blogging (LOL, how did that even happen?), I can grab some tags to get more post ideas.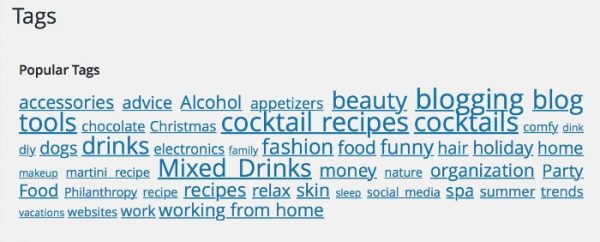 Blogging: How to create a Pokemon GO gift guide. Network while taking your kids out.

Photography: Take amazing pictures while out catching them all.

Cocktails: Pokemon GO inspired cocktails. Not sure I'd want to encourage drinking while playing, but the blog post ideas are there!

Help animals: Volunteer to walk shelter dogs while Pokemon GO hunting.
See how we stretched one idea into several blog posts by using this brainstorming technique?
I bet many of you are already doing this, but for some reason, it just clicked for me.
I tend to overthink my blog post ideas and try to cram all the info into one post.
And guess what?
They usually never get finished.
I start a draft and never publish because it gets too jumbled.
This way, it's like taking smaller bites and getting you more content, too.
After you fill a worksheet, organize your blog post ideas in your editorial calendar.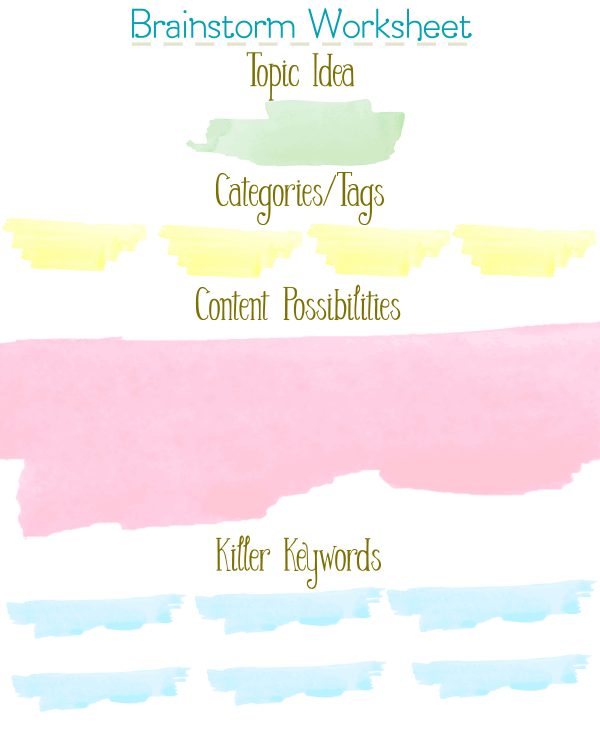 Of course, we go a step further and do SEO keyword research before starting each post, but this is a good way to get basic ideas.
Once you start this process, the ideas flow like crazy.
It won't work for every topic.
My example is such a hot topic right now it can fit almost anywhere.
Here is a free printable for a brainstorming worksheet so you can try this out yourself.
How do you get the most out of your good blog post ideas?