The final blog income report for 2016.
Lots of changes were made throughout the year, and it's a huge reminder that there are no guarantees when working in social media.
It's important to keep an eye on marketing trends and adjust your sails as necessary.
Note: This post was transferred over from amagicalmess.com.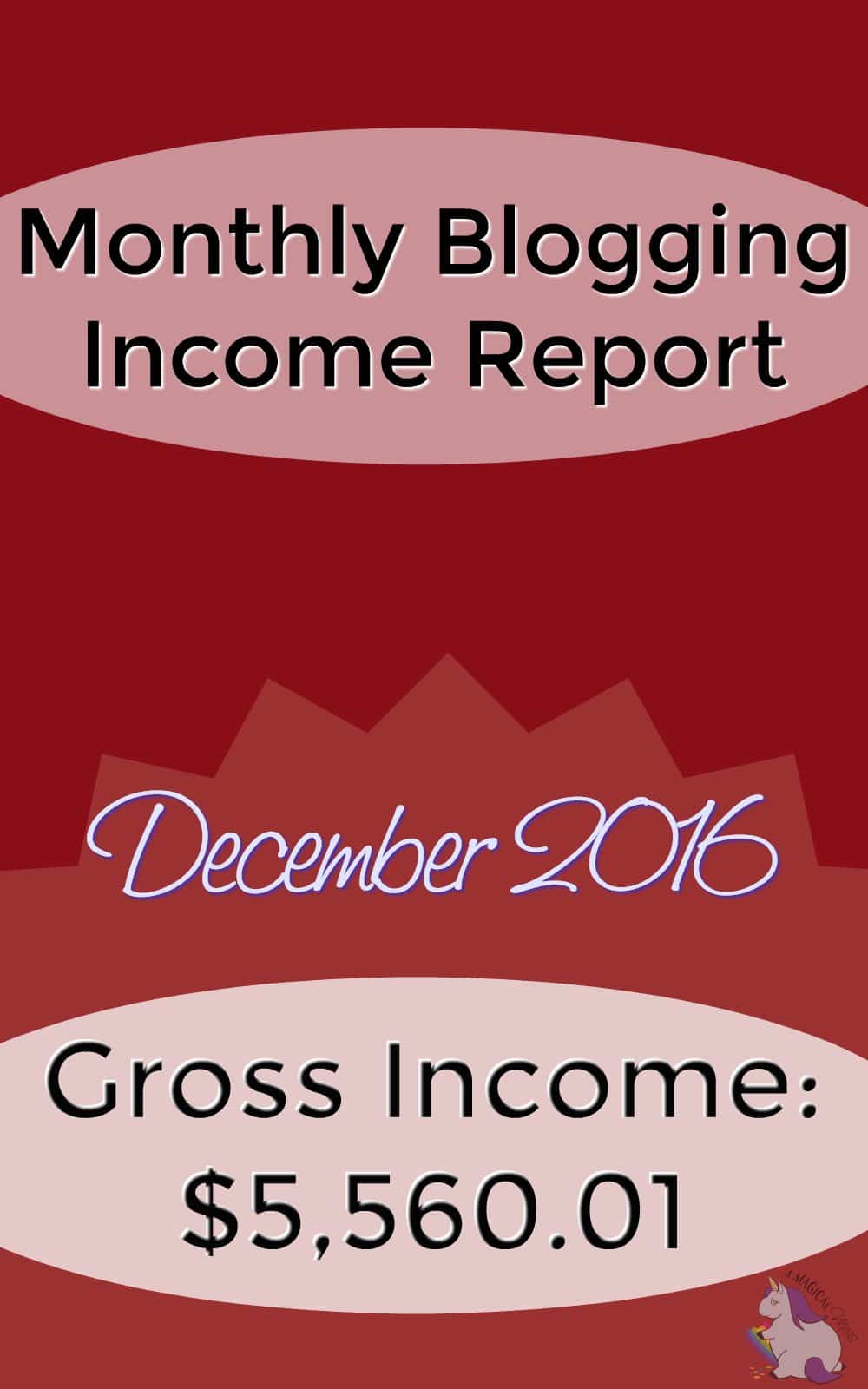 December was a busy month, but not nearly as profitable as it was in 2015.
This report doesn't reflect money earned in December unless we collected it right away (which rarely happens), so it was a busy work month, but not a fabulous collections month.
What happened to companies paying everything out before the year ends for the write-off?
December 2016 Monthly Blogging Income Report
These numbers are for cash received during the month.
In my Quickbooks, I choose "cash basis" instead of "accrual" to get these numbers.
I've decided to lump amounts together more to protect individual companies' privacy.
December Blogging Income
Sponsored Posts: $3,112.37 (Me and Shelley)
Social Posts: $737.00
Twitter Parties: $700.00
Affiliate Income: $233.00

Includes Escalate, Shareasale, and Amazon Associates

Ad Networks: $647.64

Includes Mediavine, finally Google Adsense (took all year to reach the threshold), and sidebar widget paid in gift cards

JustSweep.com: $130.00 – My giveaway directory site.
Income Total: $5,560.01
December Blogging Expenses
Photoshop/Lightroom: $10.61
Apple iTunes: $22.79
Virtual Assistant and Contributors: $734.32
convertkit: $29.00 – newsletter.
CoPromote: $49.00 – Promote social shares. There's a free version, as well.
Facebook Ads: $82.71
Godaddy: $18.34 – Bought more domain names. I got plans.
Hostgator: $30.00 – Domain renewals.
ManageFlitter: $12.00 – Manage Twitter followers.
Misc. Business and Plugin: $64.00
Udemy: $10.00
Estimated Taxes: $440.00
WiredTree: $625.95 – Quarterly hosting fee for my dedicated server.
USPS: $26.90 – Cost for shipping prizes.
Total Expenses: $2,155.62
Net Income: $3,404.39
What I Learned from this Report
Twitter party income has gone way down compared to last year.
Paid social posts have gone up.
Our affiliate income has definitely increased, but still has a lot of room for improvement.
The expenses are high, but believe it or not, I cut back on a lot of impulse buys since doing these reports.
If you post a blog income report, please let me know. I'd love to read it, or maybe even link up!