My house was burglarized almost two years ago and, yes, I am still talking about it. Having someone break into your home during the middle of the day is an extreme personal invasion. I will probably never get over it. It doesn't help that I have a variety of anxiety disorders on top of it. I already fear random crap, I didn't need any help in the paranoia department at all. This post contains affiliate links, but all opinions are my own.
How Burglars Target Homes – Could Packages Make you a Target?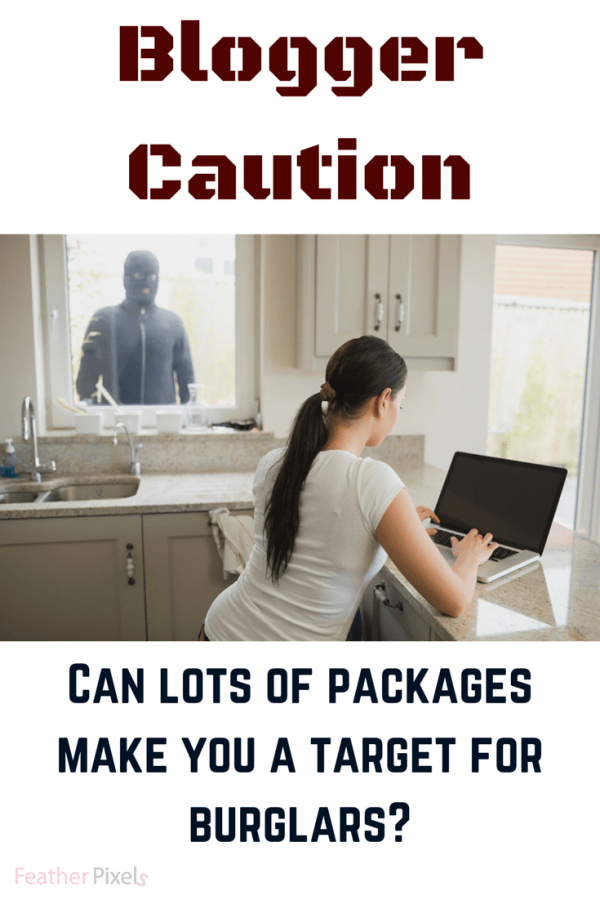 Anyway, I have often wondered why our house was a target. Our house is modest and does not give off any indication of us having money. We have three dogs, one of which is a huge German Shepherd. I have heard burglars usually avoid houses with dogs when it's random. One thought that I have always wondered about is what if it's because we get so many deliveries? Being a blogger, I get several packages each week. If someone saw this, it would be easy to assume that we have a lot of goodies up for grabs in this house. Or, that we simply have a lot of money.
My theory is based solely on me playing detective. But, in any case, if you are a blogger or any person that receives a lot of packages, here are some things you might want to do.
Know when packages are coming: I use UPS My Choice to get notifications as to when my UPS packages will arrive. If I am home, I bring them in ASAP. If I won't be home, I ask my neighbor if they can grab them off the porch for me. The less time people see boxes sitting outside, the better.
Have boxes shipped elsewhere: If you have another safe place for packages to be shipped, consider using that address. This is not an easy option. Most places will not ship packages to P.O. Boxes, so it would have to be another physical location. A business of a family or friend could be a good choice. If the packages are delivered via UPS, once again, UPS My Choice allows you to have it delivered to a UPS Store.
Ask the delivery person to hide the boxes: Make friends with your delivery people! Let them know what you are up to and why you get so many packages. Tip them, and ask if they can strategically place your packages in a more hidden location. This is tricky, as well because delivery people tend to change frequently. We used to have a kick-butt mail person that would go out of his way to put my packages in a discreet location. I miss him.
Informed Delivery: See if you can sign up for Informed Delivery from USPS. Get an email that shows what's coming to your mailbox that day. I'm obsessed with this new service. If I know I won't be home and I see a check in the mail, I ask my sister to grab the mail for me. Or, if something shown in the mails does NOT show up, you can notify the post office ASAP on the website.
Obviously, we now have lots of security installed in our home. Lesson learned for sure. But, if you are a review blogger or any person at all that receives lots of packages, it might appear enticing to burglars to come on in and see what you've been getting. For us, they must have been pretty disappointed. Most of the items that I receive, I end up donating or giving to family and friends.
Although I am using quite a creepy image, I am not trying to freak people out. Just sharing some thoughts about our own experience and wanted to help spread awareness. This is a situation we tend to think won't ever happen to us, but burglars are out there, and the more you can do to protect your home, the better.